Conscious Parents Unite! Live Inspired! ® with Nina Sidell
"A Safe Space for Support and New Ideas- Add to Your Parental Toolbox!"
Do You Want a Closer Relationship with Your Child? Join the Movement!
Rise to The Occasion: Join Like-Minded Parents as We Consciously Heal Our Human Family. Let us get back to the basics of what is most important. Our society is made up of families and we have forgotten its significance. When you become a parent, you share your love and wisdom and do the best that you can with the skills and tools you have at the time. To consciously parent is to be mindful, devoted, and aware in all that you say, think, and do. As a conscious parent, you are committed to building a lifetime of awareness, healing, and closeness. Join the community of parents who share these values and practices. When we parent, we do so for life. The parent-child relationship lasts a lifetime and the family experience has more impact in our lives than any other over time. Our human family grows and heals when each individual family gets stronger and healthier. It is time to care and be aware– do your part and sign-up today!
If you want to resolve issues or strengthen your parent-child or family relationships join us!
Learn life-altering wisdom and practical solutions- Tips from "Parenting for Life"
Co-parenting issues or conflicting styles, goals, and values.
Single-parenting issues and the need for support.
Communication struggles that require deeper understanding and skills.
Parental styles, goals, and finding what works.
Challenging personality or temperament issues.
Lack of time, sleep, patience, and self-care tools.
Unresolved or difficult family history and personal triggers.
Children growing up in a fast-paced, adult-focused world.
The importance of modeling and building mutual respect.
Boundary setting and honoring each individual as sacred.
Conflicts that require creative problem-solving skills, self-awareness and accountability.
Personal growth and evolution for yourself, your child, your family, and the world.
 You can be a parent who is partnered or solo- a parent who is any gender, age, lifestyle, and family configuration. You recognize that your role as a "Parent who cares and is aware" while raising and relating to your individual child or children at all ages and stages really, truly matters. This relationship and the family dynamics for everyone is important and changes lives for the better or the worse.  It matters for both of you, now and for the future of your lifetime relationship as you individually and collectively live happy, functional lives. Family life is at the root of our society. Our human family needs care. Let's start with one family at a time. I am here to help others live their best lives yet and to help heal the world one family at a time.  Receive the 1st chapter and the Chance to Win a Free, Signed Copy of: "Parenting for Life" The Revolutionary New Parenting Paradigm by Nina Sidell, M.A.
"If you are interested in conscious parenting, this book is an excellent guide."
Dr. Deepak Chopra
Live Inspired! ® Nina~ @NinaSidell #LiveInspired!® #parenting #DeepakChopra #MCA #LoveTrumpsHate. www.LiveInspiredwithNina.com
Go To: www.LiveInspiredwithNina.com and sign-up to be eligible to win a Free Signed Copy of Nina Sidell, M.A.'s Mom's Choice Award-Winning and Deepak Chopra endorsed book, "Parenting for Life" Five lucky winners will receive a signed copy with Contest Friends! Secure site with your information (Name, Email, Mailing Address).  Drawing runs until February 14, 2017. FIVE LUCKY WINNERS will be notified when the contest ends and they will receive their signed copy of the Mom's Choice Award-Winning and Deepak Chopra endorsed book, "Parenting for Life" by Nina Sidell, M.A. by the week of February 21, 2017. "Parenting for Life" creates a new paradigm for families living in our age. You can get your copy at Amazon, Create Space, Kindle, & Barnes & Noble.com. Reviews welcome Inc. on Goodreads. For your copy and to give a copy, go to: https://liveinspiredwithnina.com/book/
 Everyone who signs up Receives the following: 1. Free first chapter of, "Parenting for Life", 2. Access to monthly "Learn to Live Inspired! ® eSeminars, Live Inspired! ® blogs and newsletters that motivate, inspire, and support you each month, and a free Facebook and Linkedin group membership to Conscious Parents Unite!
"I AM A PARENT WHO CARES AND I AM AWARE" Join the Movement Today!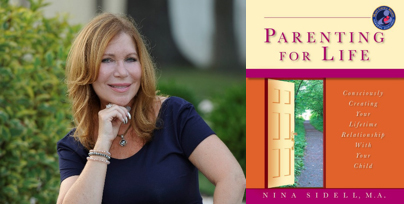 #LiveInspired! ® #parenting #DeepakChopra #MCA #LoveTrumpsHate