Powerful and practical, "Parenting for Life" offers parents with children of all ages tools to strengthen and heal their relationships.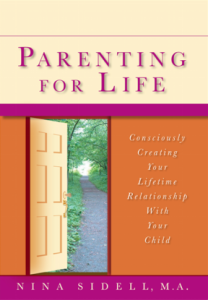 Mom's Choice Award Winner. The parent-child relationship is one of the most powerful forces in life, shaping nearly all other relationships. In this revolutionary guide, therapist and life coach Nina Sidell, MA, gives parents of all ages, stages, and walks of life the tools they need to foster mutually respectful, healthy, and loving relationships with their children.
Tune into the Radio Interview! Get Your Copies of the Book!
Perfect Father's Day gift! I hope my book Parenting for Life inspires the world. Live Inspired! ® Nina~
It's All About Relationships. "How to Parent for Life with Nina Sidell & Edie Weinstein" | Vivid Life Radio

Listen Here!

 Wonderful conversation about my book, Parenting for Life. Join us~
Read the article written by Lynda Dell about me and my book, Parenting for Life.
Go to: http://abouther.pwbn.org/planting-the-seeds-for-a-healthy-relationship-with-your-child/
Parent, Love, Learn, Work, and Live Inspired!®
Want to live a better, happier and more peaceful life? Find support, strategies, and hope in a safe place.
I am here to help you live your best life yet! With over 25 years of experience as a therapist and group facilitator, I use my skill and expertise with each person I work with. I offer psychotherapy, life coaching, and work with women, couples, co-parents (of all kinds), and families (of all kinds). The focus of my work is personal empowerment, healthy relationships, transition, and wellness. My mission is to help people feel well and live with clarity, empowerment, and healing. This includes all relationships, including the relationship with one's self. I offer Learn to Live Inspired!® eSeminar Series designed as a monthly support system to help individuals live with more awareness, understanding, and joy. Relationship Toolbox Workshops & Spiritual Healing Group is an ongoing open weekly support and workshop group. Relationship topics of all kinds are explored and tools are developed for the benefit of group members. A new Parenting for Life group is forming in concert with my newly released book, Parenting for Life. I am accepting group members now and can be reached by email or phone. Live Inspired! ® Nina~.
Learn how to make peace with yourself and your child for life! Invest in yourself and your child.
Parenting for Life is a unique parenting book that deals with the parent-child relationship over time. It brings a fresh perspective to your role as parent, no matter where you are in the parenting process. You are guided to develop your skills to best care for yourself and your child. Parenting for Life holds parents accountable, helps children forge their own paths, and strengthens the parent-child bond through love, respect, and empathy. This is the parenting manual everyone has been waiting for!
Let me guide you to honor yourself, connect well with others, take safe risks at home, in your relationships, and at work.
Whether individually or in a group setting, you deserve to realize all the success you desire. This includes your self-care, time management, stress management, and clutter management. Skills in each of these areas can be learned and implemented at any time. If you are willing to grow, you will.
I speak and provide interactive and experiential workshops that educate, encourage and inspire groups.
 Does your company, college, school or hospital need to bolster a culture of personal development? Does your college want to add Parenting for Life to your curriculum so that we can teach students about parenting before they embark on the journey? This book is an invaluable resource for any person who is a parent, who is thinking of having children, or who is an adult child who wants further clarity and healing with their own parent.
NINA SIDELL, M.A. brings her professional expertise and skill as a therapist, life coach, and speaker to you or your company. In a safe and positive setting you are free to explore, find clarity and take positive action for your best life.  CONTACT NINA and get started today!
Learn to Live Inspired!®
---
Contact Nina to motivate, educate, encourage, and inspire you or your group!
---
Would you like to improve your relationships, take better care of yourself, set and reach your most important goals in all areas of your life, and create a happier, healthier life starting now? Let me show you how.
Live Inspired!®
Live Your Best Life Yet!
♦ ♦ ♦ ♦